"Ocean Boheme... A beautiful fusion from the earth's elements."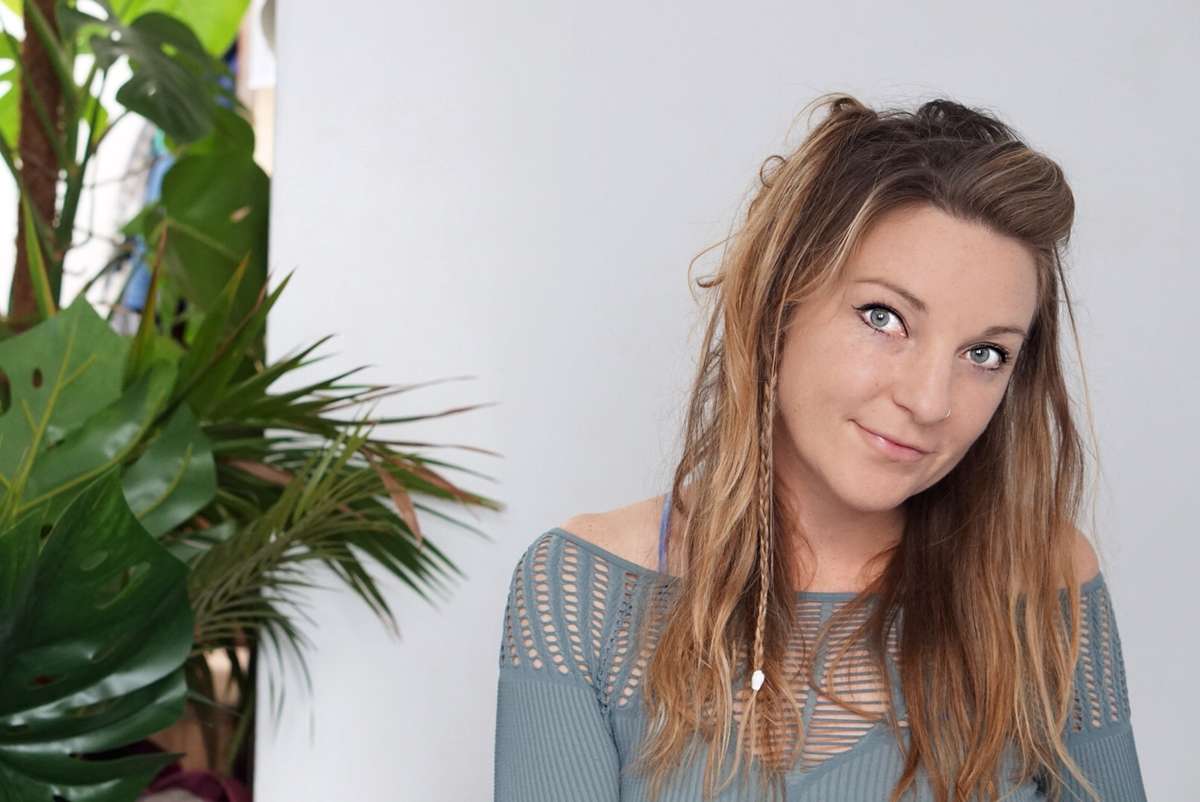 We caught up with Sara, the founder and designer behind Ocean Boheme — this is her story.
Sara started jewellery making as a child and grew up on an island with the ocean at her doorstep, so creating ocean inspired jewels was a natural evolution.

Sara developed a love for ocean and mountain boardsports and spent years travelling the world seeking out jobs in exotic countries; teaching windsurfing in Corsica and France, working on a pearl boat in the Indian Ocean, selling shell jewellery on the beaches of Hossegor and working on a dive boat in the Whitsunday islands.
All of these experiences have shaped her path to where she find myself now, with a creative streak influenced by her passion for boardsports, the environment and travelling to exotic countries.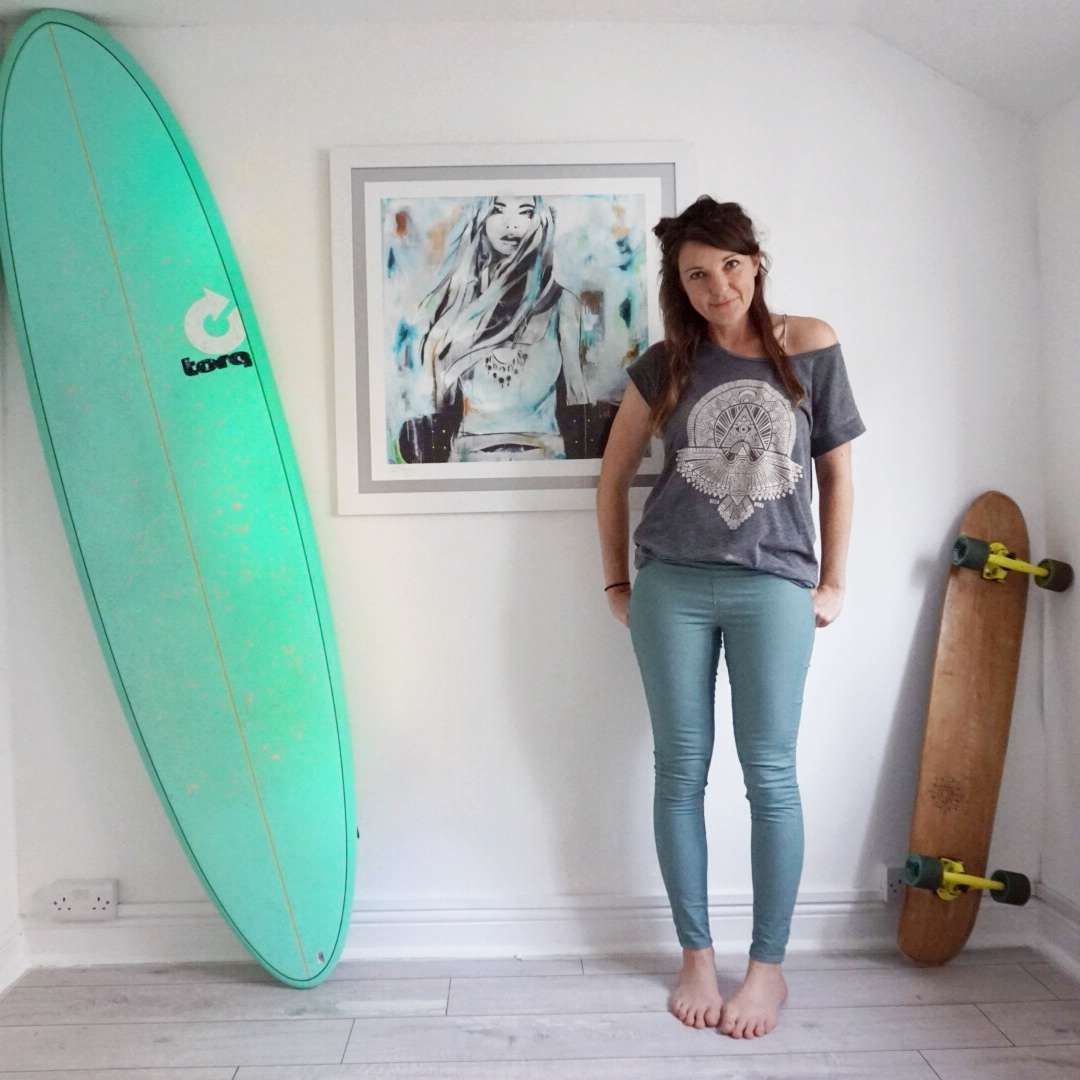 Sara, describe Ocean Boheme in five words?
Oooh that's hard… unique, bohemian, eco-conscious ocean jewels.
What inspires your brand?
Tropical travels to far flung destinations inspire my jewellery, as do coldwater surfs in the UK. I like to design pieces that connect the wearer to the ocean even when they may not be lucky enough to live in tropical climates or close to the ocean.
The threat of plastic pollution also has a big impact on influencing the decisions I make with regards to production, materials and packaging.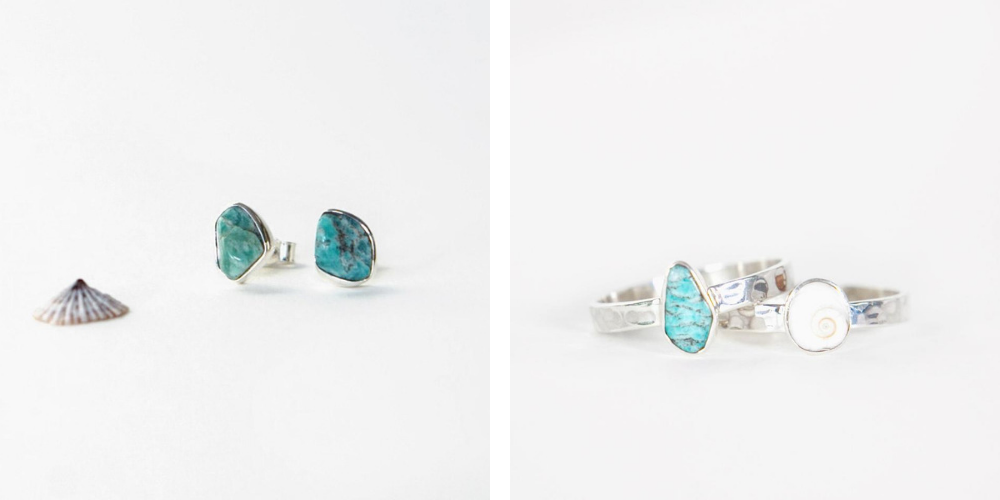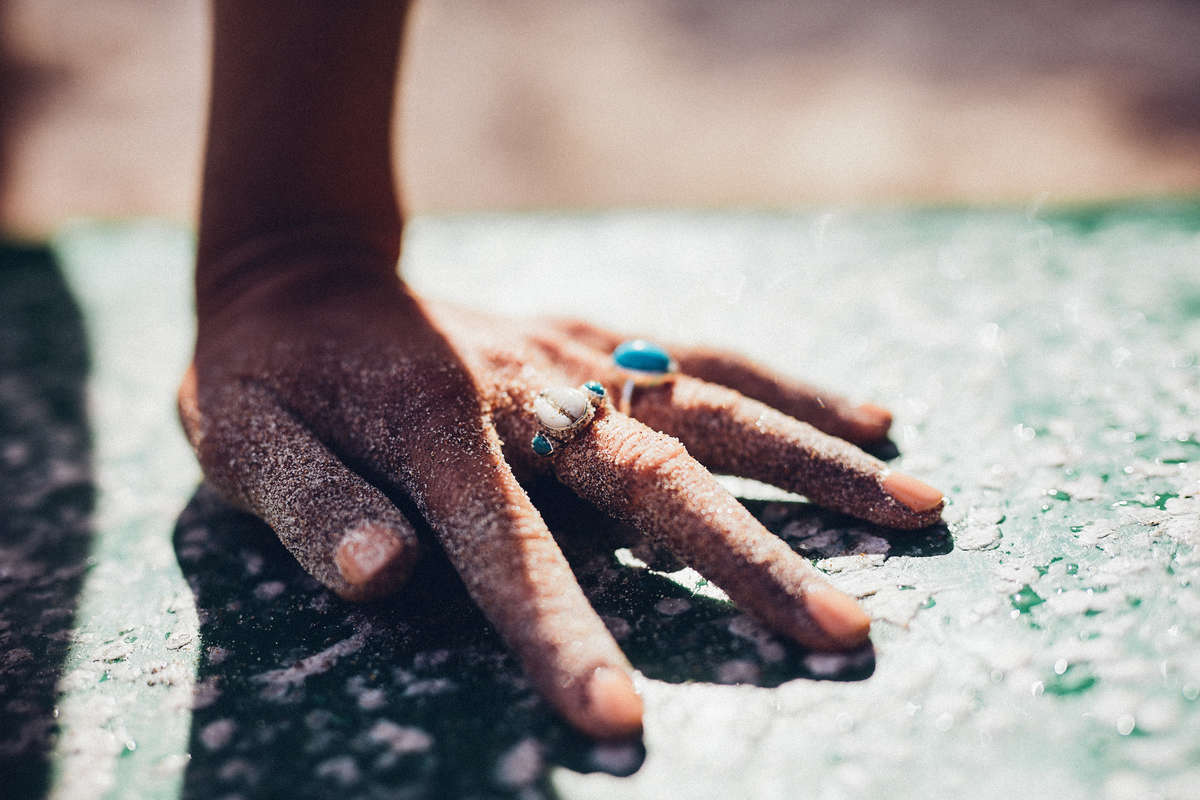 Who do you have in mind when you design new pieces?
I am guilty of designing everything with myself in mind! If I wouldn't wear it, I won't design it. This is sometimes an issue as I often don't want to part with rings in my size. My boyfriend teases me saying I'll end up being a washed up old lady at the beach dripping in turquoise and shell jewellery. Ha, ha!
What's been your biggest challenge with Ocean Boheme?
Starting your own business has lots of challenges! Juggling designing with my day job, not having enough time in the day, having to learn lots of new skills. I can actually say that I have genuinely enjoyed all of these challenges so far. I have always wanted my own business but had no idea how rewarding it could be. When you are working for yourself you define your brand on your terms by what is important to you – very satisfying.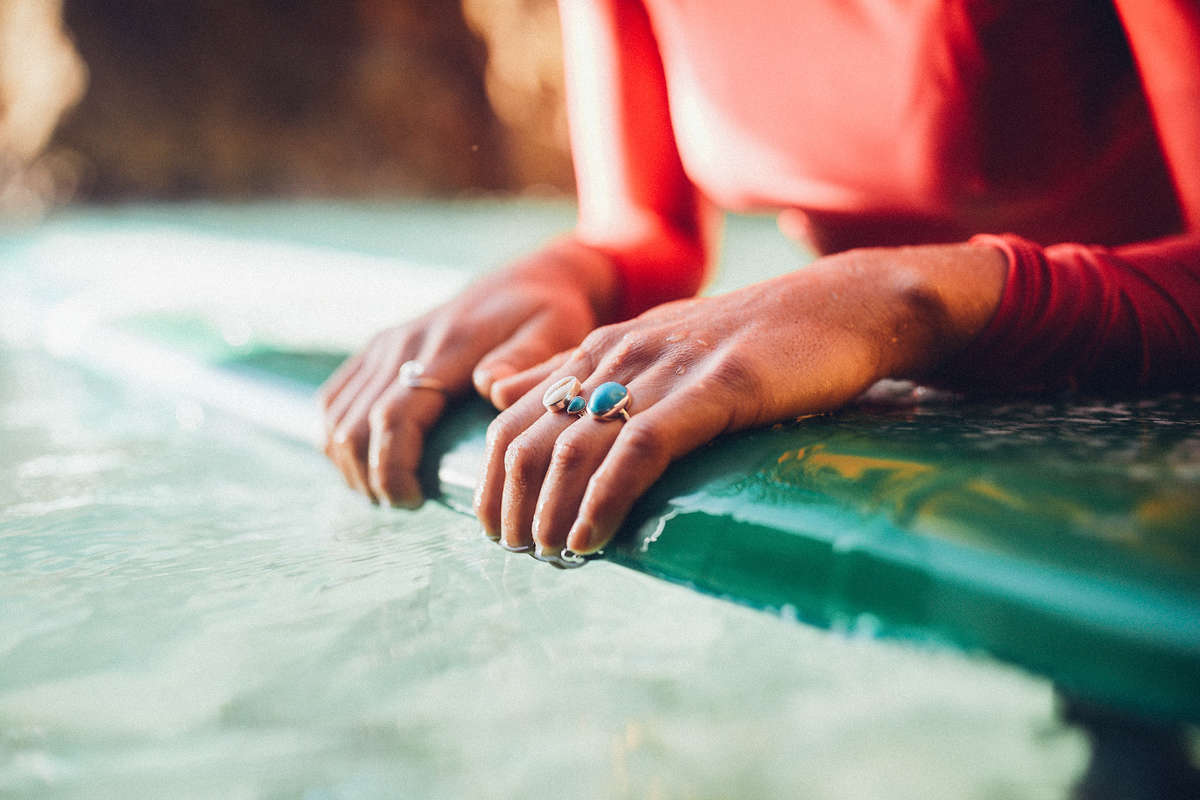 Where do you source your stones and shells from?
I collect the sea glass myself. I am lucky to live right by the beach in Brighton where I find quite a lot (thank you Fat Boy Slim for your beach concerts). I also have a hunt for sea glass when surfing/paddle boarding in West Witterings, Kimmeridge, Devon and Cornwall and also when travelling abroad. A lot of my shells are up-cycled, I was gifted with Fijian shell lei necklaces in Fiji which are now getting a second lease of life, I also buy second hand shell belts to reuse the cowrie shells. I do sometimes collect the odd broken shells when I am travelling in places such as Sri Lanka, Philippines, Indo, Samoa, Costa Rica & Fiji. I am conscious to only take shells which are broken which hermit crabs would not be interested in!
Where do you see the brand growing and who would you love to see wearing your designs?
It would be great to have collections that support causes close to my heart; such as the banning of shark finning, ocean clean up schemes and marine conservation projects.

I have also started working on non-jewellery lines such as Coconut Sea Salt Hairspray which comes in glass bottles and Seaweed & Salt Shampoo bars to reduce the amount of plastic bottles in the environment. I am also bringing out clam shell jewellery holders and have lots of other ideas – watch this space!


I would love to see Madison Stewart aka Shark Girl Madison wearing my designs as she does loads for protecting the ocean which I really admire. I don't specially have a desire to see anyone famous wearing my rings (although it would be quite cool) I'm more than happy to see ocean loving girls from any walk of life
wearing them.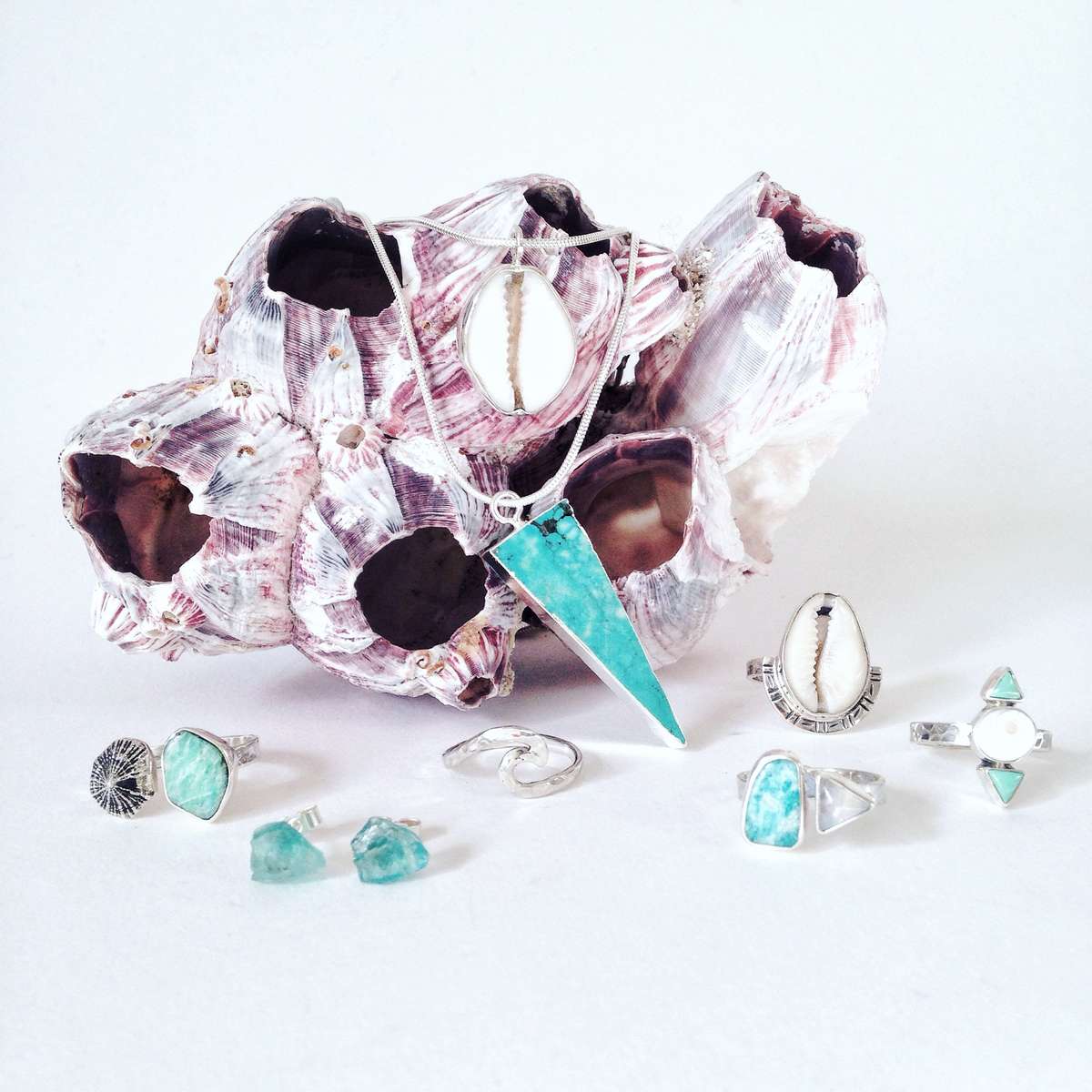 Do you have any top tips for other budding makers / creatives?
If you have a burning desire to do something then do it! I took a long time to decide where to focus my time and energy (sushi fusion hand rolls, zero waste shop, tipi campsite) however once I decided where my passion lay I went for it. I just only wish I had figured this out sooner!