With David Attenborough giving us a stern message in Blue Planet II, there is no better (or more important) time to look at how you can reduce your plastic use on a day to day basis. With plastic being used and discarded in the same day, hours and even MINUTES after purchase (and most of the time it not being recycled), this indestructible material is destroying our planet and killing the creatures on it. The worst thing about it; it's our fault.


We caught up with environmental lifestyle blogger – Plastic Free Hobbit, to hear her top tips for going plastic free, here's what Beth had to say:
6 tips for going plastic free
I am a strong believer that making a difference starts with just one person. By making some small changes and passing the message on, it starts a conversation and gets people thinking. Without us, the consumer, changing the demand in the market for alternative packaging, nothing will ever change.


Going plastic free may seem like a daunting task but it really is super easy and by just thinking about some of the things you buy on a daily basis, you can drastically reduce your plastic consumption instantly!


I've been plastic free for 8 months now and whilst it's had it's challenges, I have never been happier, healthier and had so many people reach out to me with such kind words of encouragement!


I've put together my top 6 plastic free essentials & tips that I love and have helped to kick start my plastic free journey.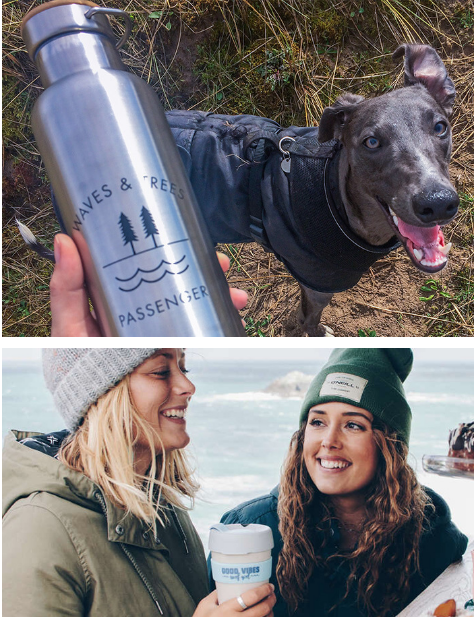 1) Get yourself a reusable bottle / coffee cup
Plastic bottles take approx 450 years to decompose


This is the easiest and first thing you can do! Invest in a stainless steel or reusable plastic bottle and stop buying plastic bottles of water. Want a fizzy drink? Grab a can and recycle once you're done!


If you're a coffee drinker, be aware that most coffee cups (even the recyclable ones) can't or won't be recycled. Use a reusable coffee cup like the KeepCup. Over a year, using a KeepCup reduces greenhouse gas emissions by up to 92% compared to disposables. Check out the SurfGirl KeepCups
here.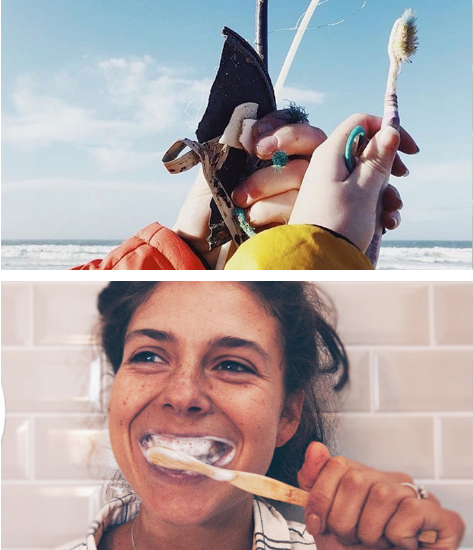 2) Replace your toothbrush with a biodegradable one.
Plastic toothbrushes takes approx 300 years to decompose. Next time you go to replace your toothbrush opt for a biodegradable one that you can pop in your compost heap when you're done with it. Super cheap and loads of different options out there, I got mine on Amazon. Give
Bristle toothbrushes
a go.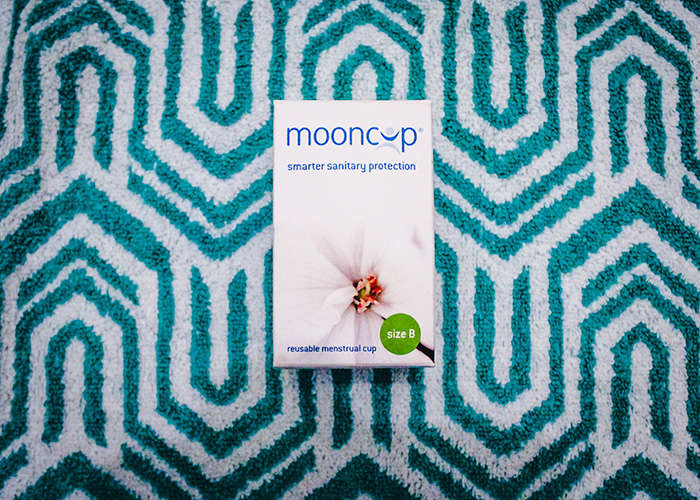 3) Switch your tampons for a Mooncup.
Tampons (not including the plastic wrapper) takes approx 6 months to decompose. A Mooncup (or menstrual cup) is a reusable cup to replace disposable sanitary products. It's completely free from chemicals and it lasts for YEARS. That means you will save A LOT of money and save a LOT of plastic from polluting the planet.
This is probably my favourite change yet and I know of at least four friends who switched to a Mooncup after I told them how much I loved mine and they all agreed; the time of the month has changed forever!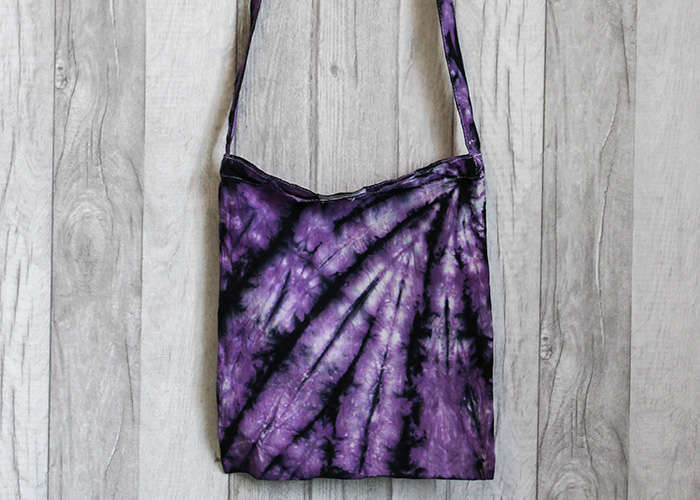 4) BYOB – Bring your own bag.
Plastic bags takes approx 1000 years to decompose. I now only shop for vegetables at my local farm shop where everything is loose and they have paper bags to use instead of plastic. If this isn't an option for you then make sure you're armed and ready to go shopping with your own bags. Avoid the fruit and veg in pre-bagged packages and load your trolley with loose items. What do you do when you get home anyway… take it straight out of the bag!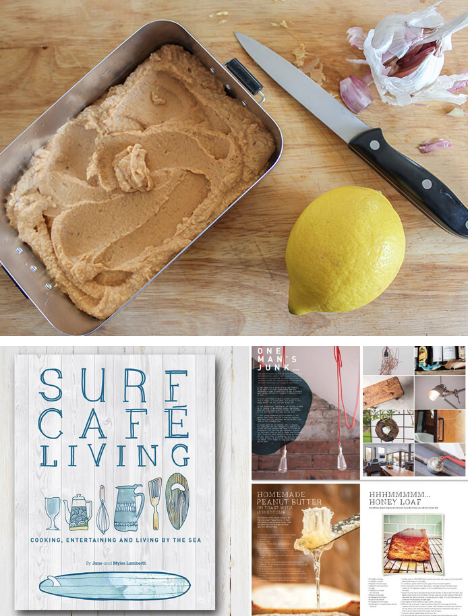 5) Make your own & make it in bulk to save time.
Over the past few months I've found some amazing plastic free recipes for all the things I loved but couldn't buy without plastic packaging. I now make my own pita breads, hummous, bread, wraps, smoothies, yoghurt, juice and granola. I was so surprised at just how easy all of these are to make, they have very little ingredients, no additives or preservatives and you can make extra to freeze ready to grab on the go!


Get a copy of Surf Cafe Living for some great recipes to inspire you to make your own
here.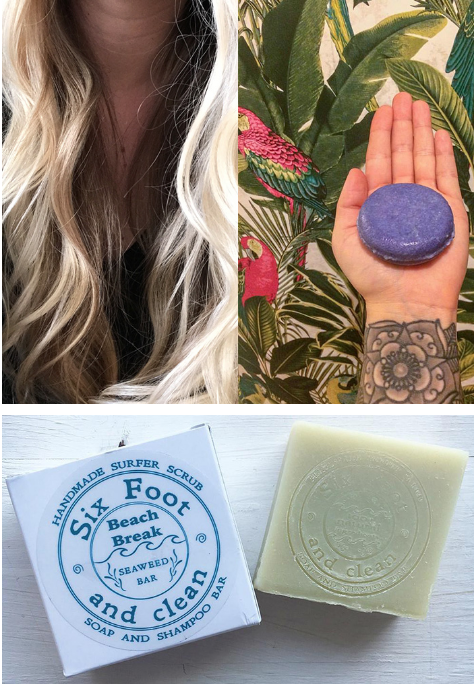 6) Switch to packaging free shampoo bars.
Plastic shampoo bottles takes approx 450 years to decompose. I wish I had known about these sooner! Shampoo & conditioner bars have changed my life and I will never go back! This has been one of the easiest (and fun) changes to make and my hair feels better than ever! Lush sell loads of packaging free shampoo bars to choose from and I am a strong supporter of their brand; they are against animal testing, they use ocean plastic to make their tubs and if you take back 5 tubs they will reuse them, giving you a free face mask to say thanks!


If lush isn't for you, many other brands also do plastic free shampoo bars. Check out Welsh brand West Coast who make soaps and shampoo bars just for surfers from local ingredients such as seaweed, lemongrass and rosemary. Check out their Six Foot and Clean range
here.


I have many other tips but taking small steps that are achievable is the best way to go plastic free for life!
Read more on my blog here.
*Decomposing times are approximates as varying conditions/factors have to be taken into account.