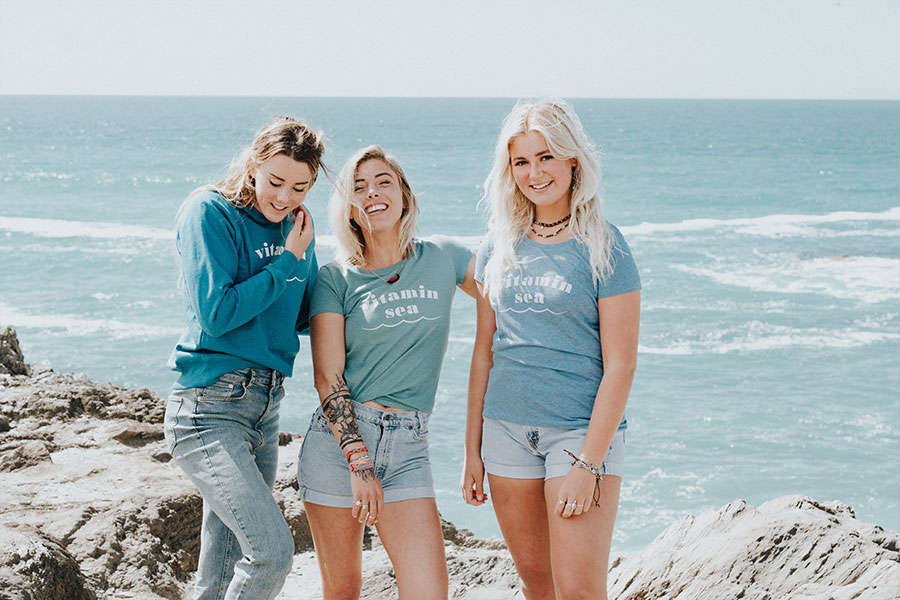 SEAS THE DAY
We asked three amazing surfers to model our new surf-inspired Seas the Day Collection. It was a sunny, fun-filled afternoon hanging out with a lovely group of surf girls Lucy Campbell, Hannah Harding and Milla Magee. At the end of the afternoon we had a quick chat with the girls to get the lowdown on what they've been up to lately.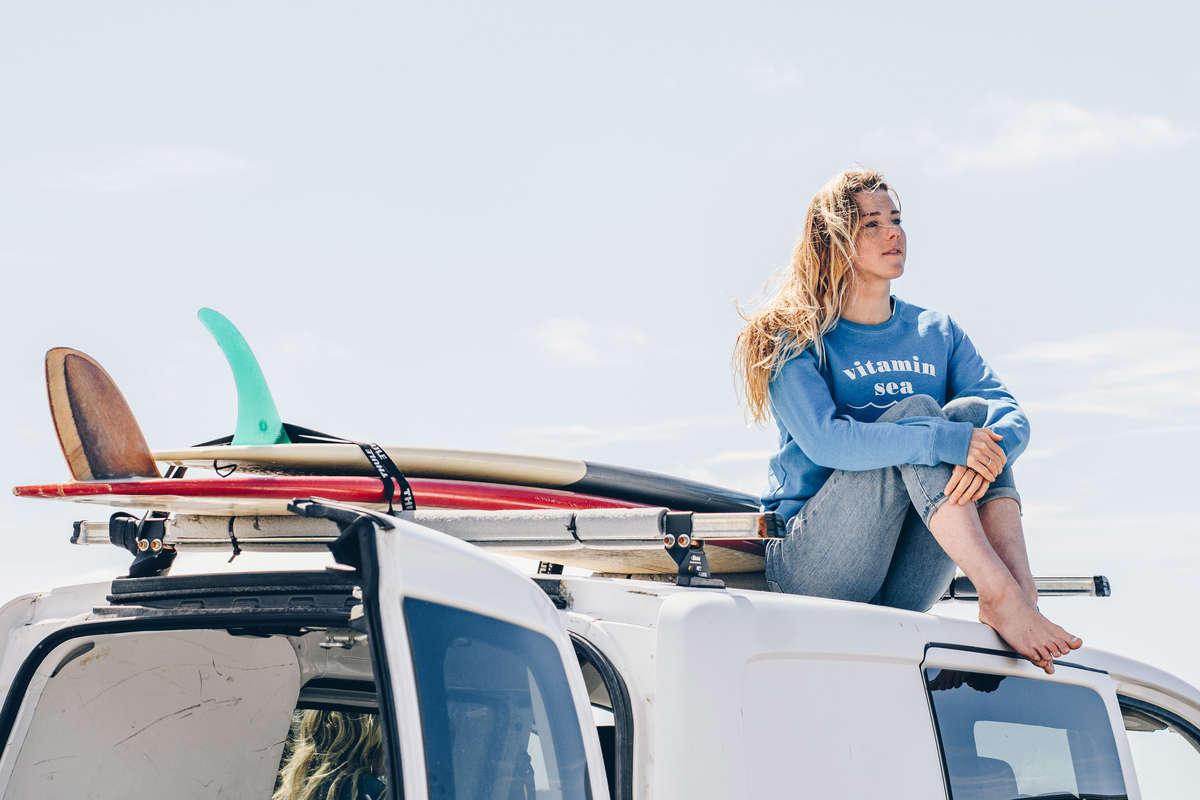 – Lucy Campbell | Pro Surfer –

Lucy, it really feels that your surfing has gone up another level recently. Do you feel that too?
Thank you! For me the thing I love about surfing is being able to push yourself and the feeling you get when you land a new or bigger move so I guess I'm always looking to take my surfing to new little levels.


The new collection is called 'Seas the Day', how do you make every day count?
Make time for the things that you enjoy, bring you happiness and that little glow to your heart. Wether its being out in the ocean, taking time to appreciate a view you love, going for a walk, catching up with friends or even if some days its just taking 10 mins with a cup of coffee relaxing in bed before the day begins. Take some breaths and embrace how it makes you feel.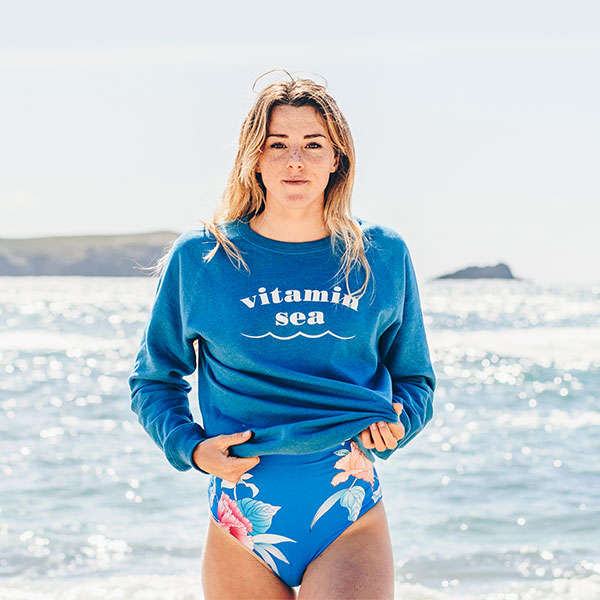 Although it looks amazing, it can't be easy travelling around the world?
Yes there are times when It can be a little tricky or nerve wracking. There's always the joys of delayed flights, missed connections broken down cars and lugging a board bag miles to find your accommodation. Sometimes these little miss haps make the trip more of an adventure and although they are annoying at the time you can look back and laugh. I try to be as organised as possible to know the areas I'm visiting. It can be tough being on your own on the other side of the world not only missing my boyfriend, friends and family. Also staying safe in countries that are known to be a little dangerous. I always try to make sure that I'm not out after dark on my own, don't tell strangers where I'm staying, don't have phone/ money out on show walking around, always know the way to get to the restaurant/ shops… pre load it on maps and (touch wood) I've never had any problems.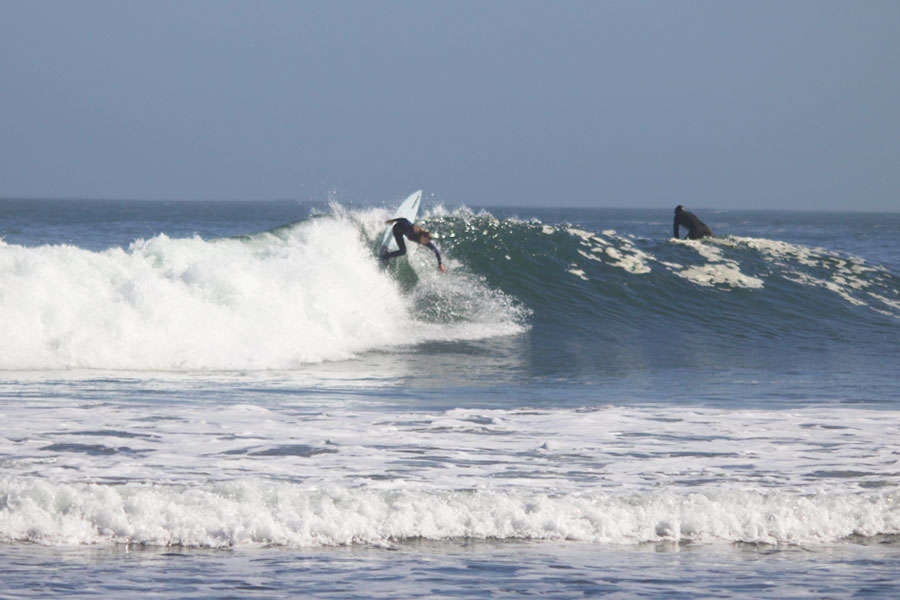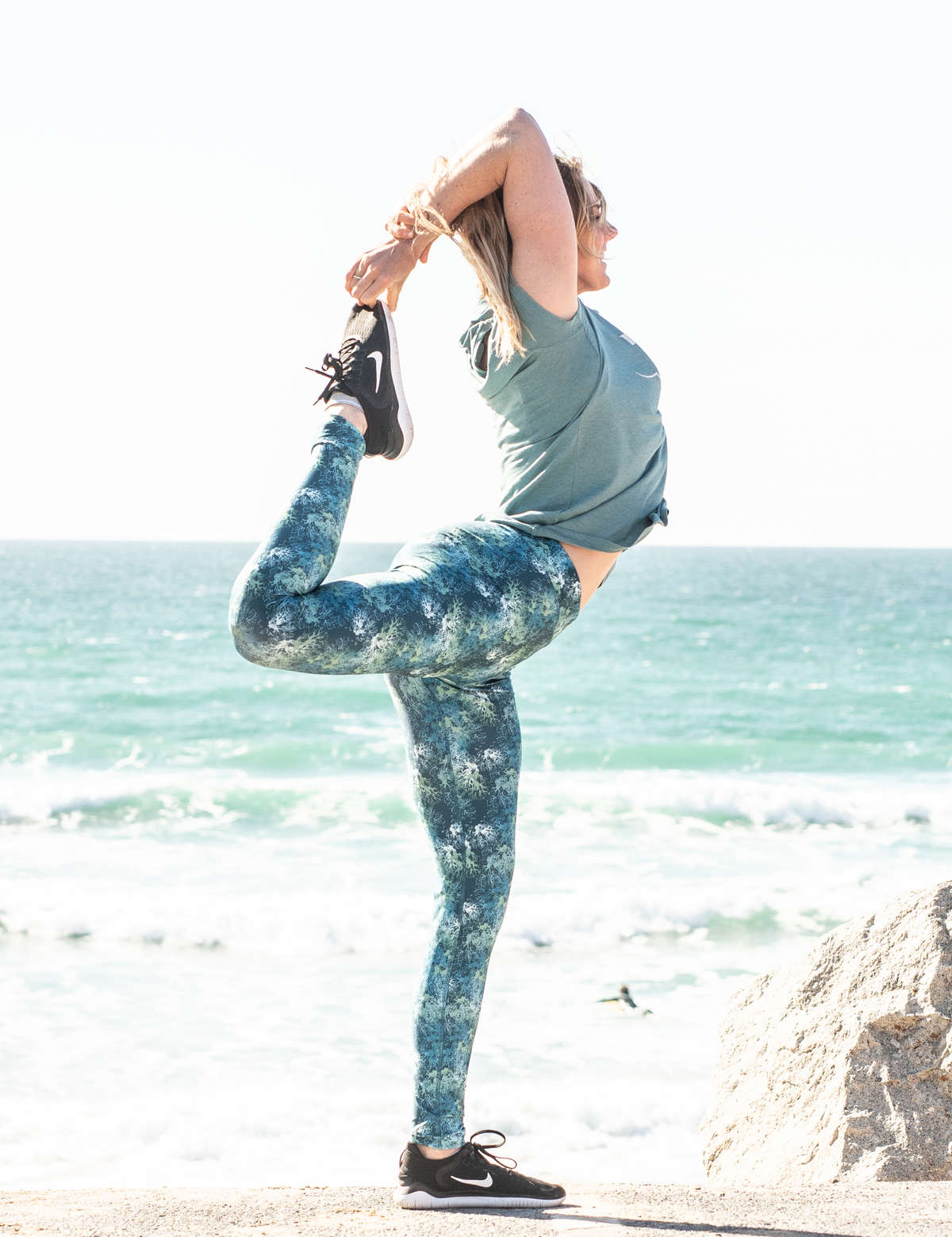 Describe your summer style?
My summer style is probably mostly boho. I'm a big fan of cute little dresses ( mostly floral) when the weather warms up, so my summer time suit cases will mostly be made up of those and any little tops that go with my Levi shorts and some knitwear to pull on over the top when the evenings get cooler.


We love the yoga poses, is this something you do regularly?
Yes I love yoga to help aid recovery from training, flights, long days in the water and to help me feel a little more centred. I'm sure all the readers know that when you are surfing you often have to think about where your feet and arms are, wether your knees are bent enough at the same time as working out what the wave is going to do- I find yoga a great way to help my body awareness out of the water!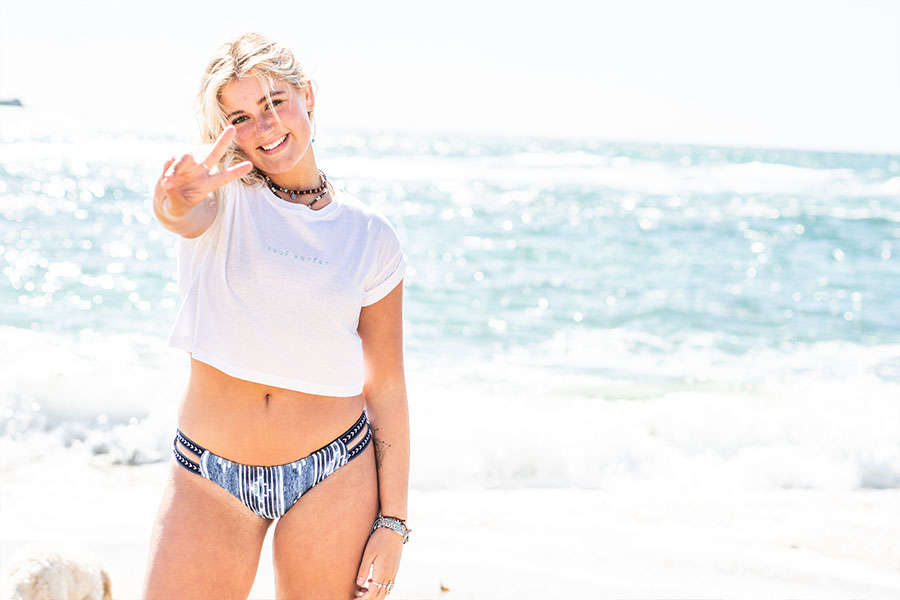 – Milla Magee | Surfer –

Milla, what do you love about surfing in Cornwall and where else have you surfed?
I've been blessed to grow up close to some of the north coast's best spots – learning to surf in the colder waters of Fistral Beach. Although most of the time the line up is extremely crowded, there is nothing better and nothing brings me more joy than paddling out with friends and family at my local. One of my favourite places that will always be my go-to is Portugal. I have been visiting since I was 15 and now you can fly direct from Newquay which is awesome!

Do you have a strict fitness regime?
My fitness regime isn't overly strict, it mainly revolves around the activities I enjoy doing and building the strength to do what I love, which is surfing. The best thing about growing up in Newquay is there are lots of diverse waves up and down the coast which is great to build my surfing skills in all types of conditions. I also practice yoga with my sister who is a teacher/ owner of Yoga Garden studio which keeps my body supple and in prime condition when in/ out the water every day.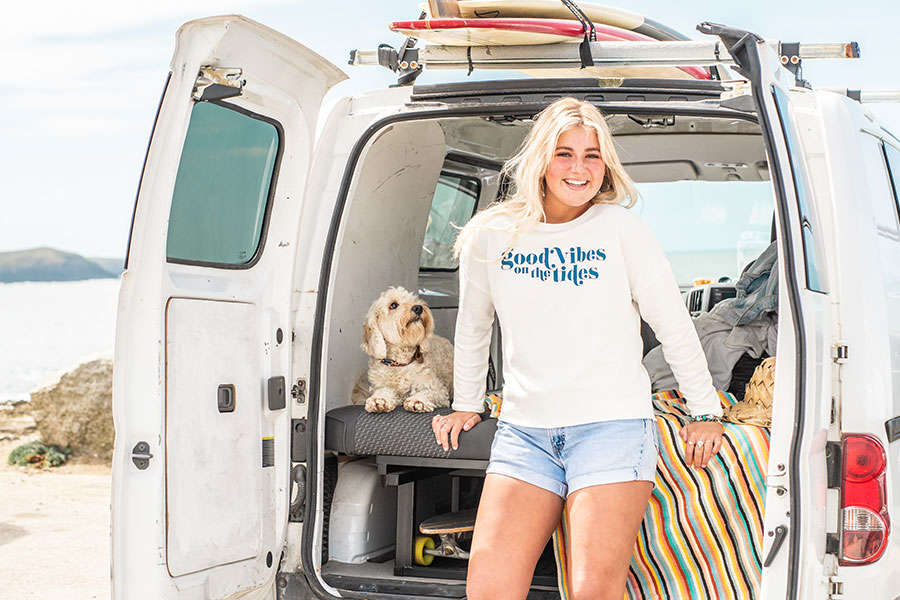 The new collection is called 'Seas the Day", how do you make everyday count?
I make everyday count by keeping a positive mindset and knowing that things happen for a reason. If something isn't planning out quite the way you wished/ wanted to, that's only because it might not be right or fit in with this stage of your journey. I revolve each day that goes by with something that I enjoy doing/ cant live without. For me that's the ocean so I spend every day at the beach as I am so lucky to have that on my doorstep.


Describe your summer vibe?
My summer vibes will consist of bare legs, coconut oil + salty hair with an iced coffee post surf.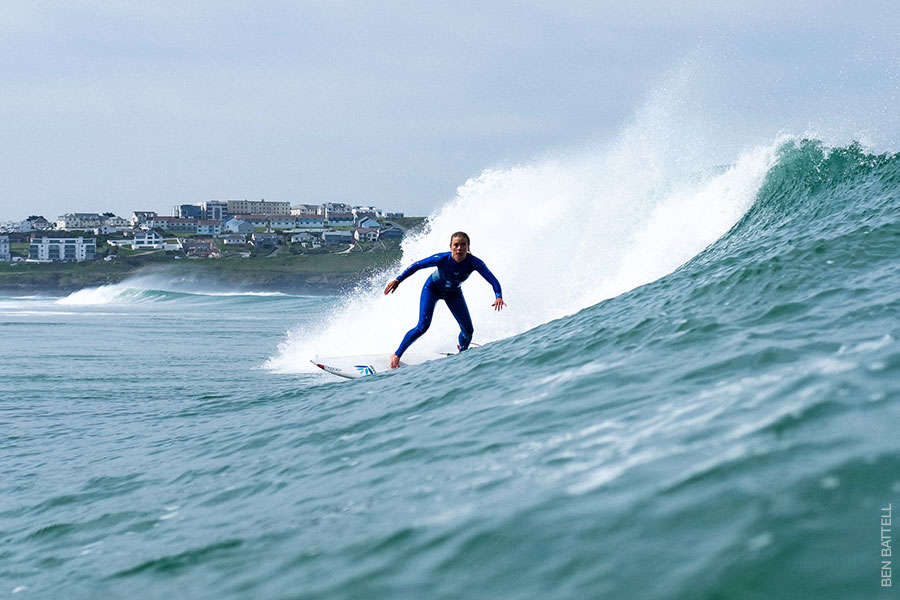 – Hannah Harding | Surfer, Model and Mum –

You look always look so amazing no matter what you've been up to at the weekend! How do you stay looking so fresh?
"Ahh thank you, that's very kind. It was an absolute pleasure to be part of the shoot. What a girl gang. Dream Team! Hmmm I certainly wouldn't say fresh, especially after a fun weekend ha! To be honest I've never really been a big pamper girl. But as I've got older, it's fast become clear that a little TLC is definitely needed, even if it is minimal (totally me!)." Eat healthy, get your early nights, stretch, cleanse and moisturise and flipping drink your water, Hannah!!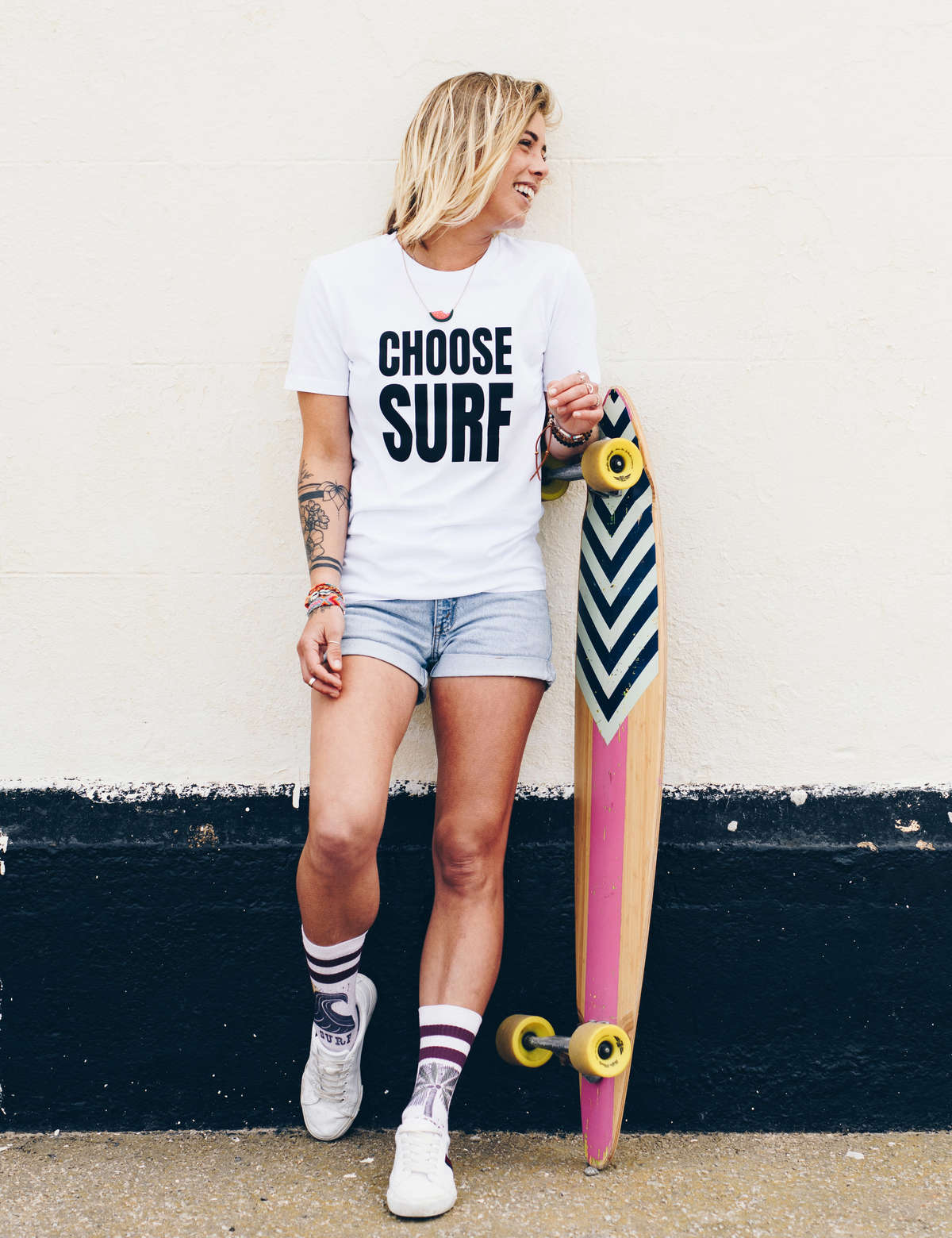 What do you love about surfing in Cornwall and where else have you surfed?
Well before I had my son Reggie, I travelled a lot. In fact I'd spend every winter in the Tropics. Bali was like a second home to me and will always hold a piece of my heart. But I'm also very lucky to of had amazing waves in other epic spots. From Auz and NZ to the Maldives, Caribbean, Mexico and various different spots in Europe. Cornwall is a very special place to me. It's where my son was born, it's where we live and with Its breathtaking beauty and huge diversity of waves it's somewhere I'm quite happy to call home. On those hot sunny nostalgic days you don't need to be anywhere else!

The new collection is called 'Seas the Day'. You seem to be a really positive person, how do you make every day count?
I get told this a lot. I guess it's the way I put myself across. But believe me I have my down days. And that's alright. Sometimes it's ok not to be ok. We can't be fabulous all the time!! I'm incredibly lucky to have an awesome little boy. Who reminds me everyday that regardless of what you've been dealt and the challenges you may face. The world is still a beautiful amazing place, full of wonders and opportunities you will experience.


Describe your summer vibe?
My style and vibe changes on a daily basis. Whether it's my chavy trackies or my denim shorts and a crop. As long as I'm comfy I'm happy!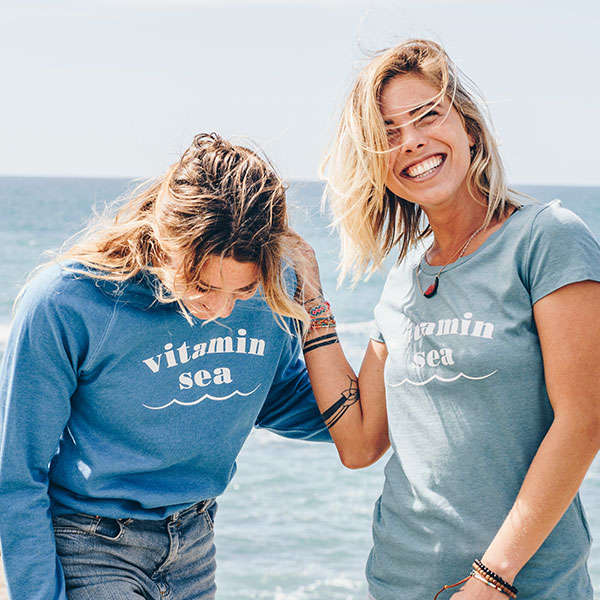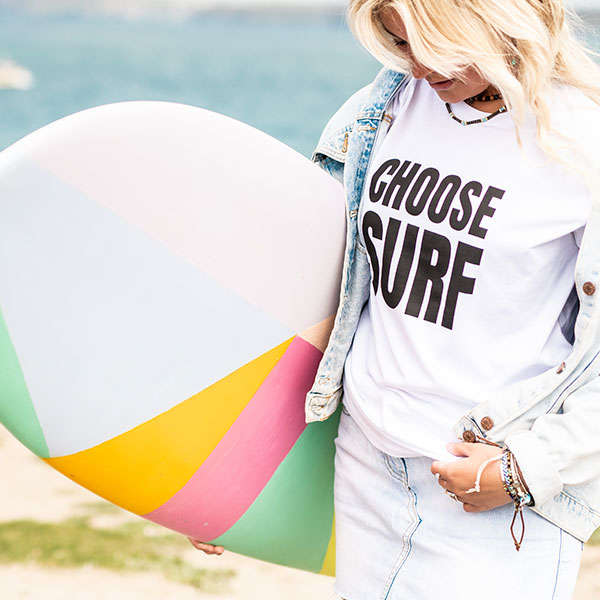 – ABOUT SEAS THE DAY –
The Seas the Day Collection is all about being living life to it's fullest; whether you're learning to surf, going on a huge trip or just getting outside your comfort zone.
So feel inspired and take a look at our surf-inspired range of tee and crews, with the environment in mind they're mainly all organic or recycled. Wear it to break out for an hour, day or even a year, as we like to say, you only live once and moments matter. Seas the Day!
SHOP COLLECTION